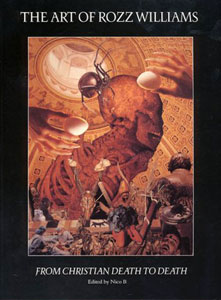 THE ART OF ROZZ WILLIAMS - FROM CHRISTIAN DEATH TO DEATH
Edited by Nico B. featuring lyrics, discographies, performance history and hundreds of photos of CHRISTIAN DEATH, SHADOW PROJECT, PREMATURE EJACULATION, ROZZ WILLIAMS solo, HELTIR, EXP, BLOODFLAG, PIG, DEATHFLUX + original ARTWORK and POETRY & WRITINGS
246 pages, color and b&w, softbound.
The first 1000 copies include the 4-track CD by Rozz Williams (see below)
Ce livre, qui au depart ne devait rassembler que les écrits et artworks de Rozz, est finalement une impressionnante retrospective sur l'ensemble de ses activitées. La premiere chose qui frappe en parcourant le livre est la diversité du personnage, de sa musique à ses écrits, ses collages, ses poemes ou ses dessins... Rozz utilisait une palette complexe et étonnante pour s'exprimer.
Le livre est largement illustré avec énormément de photos (pour la plupart inédites, ou provenant de collections personnelles), flyers, manuscrits, dessins, discographie etc... Quant au contenu, c'est une mine d'or. Outre la discographie, on y trouve les lyrics tous projets confondus, toutes les dates, pas mal de textes et manuscrits inédits (des poemes, textes en cut...) et des anotations des proches de Rozz williams.
Seule petite critique : il manque peut être une biographie conséquente de Rozz. Mais aux dires de Nico B. dans la préface du livre :
ceci, son art est ce que Rozz voulait montrer de lui, ce que le monde devait voir de lui.

At the beginning the book was planned to be a collection of artwork and writings, but it's now a huge retrospective on Rozz's art and music. Rozz was very prolific and it's very amazing to see all the many different ways he used to express himself. From music to drawings, poemes, collages, writings...
The book is full of pictures (never seen before or from private collections) and contains original artwork, discographies, lyrics, complete live performance history, writings, poetry, drawings and some notes from Rozz's friends. A thing is missing : a complete Rozz biography. But as Nico says in the introduction of the book :
This, his art, was he wanted the world to see.


ROZZ WILLIAMS (4 UNRELEASED TRACKS)
5''CD - Lenght: 13:34!
No sleeve - limited edition (1000 copies) with the book THE ART OF ROZZ WILLIAMS
Cult Epics 1999
Content four unreleased tracks from 1995:
Shadow Stand
The Angels (1995 version)
A Trophy of Skin
Lead us not
Les quatre morceaux sont des enregistrements de 1995, et sont similaires à ceux de l'album Rozz Williams / Gitane DeMone Dream Home Heartache. D'ailleurs la plupart de ces morceaux ont étés joués avec Gitane lors des concerts 95-96, et auraient pu très bien figurer sur cet album sans dépareiller. Gitane fait les back vocals sur
Lead us not
, morceau présent sur The Whorse's mouth (1997) dans une version différente. The Angels provient de l'album de Christian Death The Path of Sorrows (1993), et contrairement aux 3 autres morceaux possède quelques arrangements de batterie. Bref, 4 excellents morceaux, proches de Dream Home Heartache et qui peuvent aussi évoquer les morceaux de Rozz de From The Heart, le dernier Shadow Project.
The 4 songs are recordings from 1995, and are close to Dream home Heartache songs, the Rozz Williams / Gitane DeMone album. These songs were even played with Gitane during 1995-96 dates. Gitane did back vocals on
Lead us not
which is on The Whorse's mouth (1997) in a different version.
The Angels
is a song from Christian Death's album The Path of Sorrows (1993). It's the only song with some drums arrangements. All of these is perfect. Like Dream Home Heartache or sometimes like Rozz songs from Shadow Project's last album From The Heart, very emotive and very beautiful.
<
the blue hour