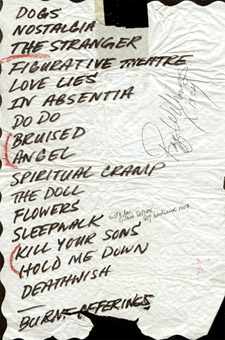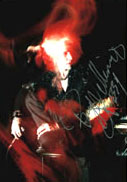 Le 7 Novembre 1994, Daucus Karota et Demonix passèrent par Bordeaux. Il n'y avait pas enormément de monde, à peine une centaine de personnes, ce qui a donné un caractère plutôt special à la soirée.
Backstage, Rozz semblait assez timide à premiere vue, mais très attentif et très courtois. Gitane, quant à elle, était assez décontractée... J'ai échangé quelques mots avec Rozz et Gitane. J'avoue ne plus vraiment me rappeller ce que j'ai pu dire, j'étais plutôt impressionné.
....
On november 7 1994 Daucus Karota and Demonix came in Bordeaux. it wasn't very crowdy, around 100 people, so it gave this evening a special atmosphere, very pleasant.
Backstage, Rozz was kind of shy at first sight, but very kind, attentive and very courteous, and Gitane was very cool and seemed to enjoy the night... I talked to them, but i must say i can't remember what exactly we talked. The night was perfect, and it will remains as one of my best gig.